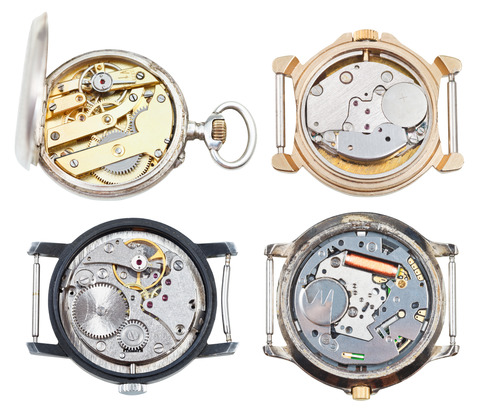 Selecting a watch is a very personal experience and it's important to look for a watch that is both ideally suited to your own individual needs as well as one that you find aesthetically pleasing. With so many available options to choose from, the quest for the perfect watch can be a little bit intimidating. However, by taking a look at the three types of watches you will encounter, you can easily determine which one is best suited to your lifestyle. Once you've narrowed down your personal choice, you will be able to enjoy the experience of selecting the watch that will be just right for you.
Manual Mechanical Movement Watches
Dating back to the 16th century, mechanical movements are the oldest type of watch. Each one is a work of art, comprised of well over 100 tiny moving parts. If you have your mind set on a high-end luxury watch, a mechanical movement will surely be your choice. Manual mechanical watches are powered by a winding mechanism. In order to keep this type of watch running optimally, you should wind it daily. In fact, it's best to wind your manual watch at the same time each day.
In addition, regular maintenance is important for this type of watch to continue running smoothly as well. This means having your manual watch serviced no less than once every 1-2 years. With this type of watch, the initial investment is greater as is the cost of maintenance. You must also take into account the daily winding. If your lifestyle enables you to commit to the time, care, and expense associated with maintaining this type of timepiece, you should certainly consider choosing a manual mechanical movement watch.
Automatic Mechanical Movement Watches
These luxury timepieces are similar in many ways to manual mechanical watches. The difference lies primarily in the way in which they are powered. Automatic mechanical watches run on the kinetic energy that is created by the natural movement of your arm as you wear the watch. No winding is required to keep this type of watch ticking and keeping accurate time as long as you wear it daily. You should also keep in mind that the same commitment to professional cleaning and maintenance is required as is for manual mechanical movements.
Finally, you should seek out the best automatic watch winder for use whenever your automatic mechanical watch is not on your wrist. A watch winder will provide protection while beautifully displaying your watch or watches, as well as creating the movement necessary to power your treasured investment.
Quartz Movement Watches
Quartz movement watches are one of the most popular. Quartz movements keep excellent time, on average losing only a few seconds each month. These watches are powered by a small battery, with an average lifespan of 1-2 years, though some batteries may last as long as 5 years. In addition, quartz movements have fewer moving parts than the other watch types we have mentioned, which means that very little maintenance is required to keep a quartz movement running well.
This type of watch is low-maintenance, keeps great time, and is most often more conservatively priced than mechanical watches. If your own lifestyle needs match this easy-to-care-for type of watch, a quartz movement would be an ideal choice.
Take the time to consider each of these three watch types before you begin shopping for your next timepiece. With a little bit of knowledge, you can easily determine which type will best suit your lifestyle as well as your personality. With these factors in mind, you're sure to enjoy the process of selecting that perfect watch.