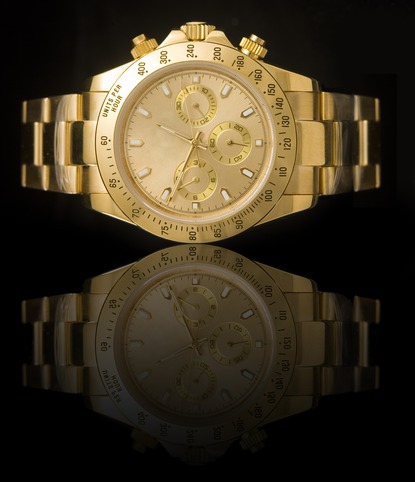 The decision to purchase your first luxury watch is an important one. With so many options available, the task of buying your first luxury watch can be overwhelming. By taking your time and keeping a few key factors in mind, you can choose the ideal watch that's just right for you, while enjoying the process at the same time.
Become an Educated Buyer
Investing in a watch is something akin to purchasing a car. Instead of simply doing a little browsing and selecting a watch that appeals to you, it's important to learn as much as possible before you begin seriously shopping for your new timepiece.
A watch is more than just a timekeeper. It is a statement to the world and something that you will wear every day. Watches have even become a major status symbol. On top of all these things, the watch you choose is a piece of wearable art that displays your personal style to the world.
Once you have some general information under your belt, visit a local jeweler or watch dealer. Look for a retailer with a reputation for expert watch repair and a nice selection of timepieces. Visiting an expert in a retail setting will allow you to gain even more information while also giving you the opportunity to try on a variety of styles and sizes to determine what looks and feels best on your wrist. You will also be establishing a relationship with a watch professional who can assist you with any future repairs and maintenance you'll need in the future. This might also be a great time to look into the cost of maintaining your luxury watch with a single or double watch winder.
Get to Know Watch Styles
As you learn about watches, don't let yourself become overwhelmed with information. It's important for you to learn about watch styles as part of the process, as your luxury watch is something you—and everyone who sees you—will be looking at on a daily basis.
Magazines and style websites can be a great way to familiarize yourself with current and classic watch styles. Be sure to look at all of the style options available. At the same time, remember that the ideal watch will be one that you find aesthetically pleasing, complements your personal style, is a comfortable and practical choice for your specific lifestyle, and that also has a design that is classic enough to remain stylish for years to come.
Know the Difference Between Value & Price
Consider the real value of your new watch as you get closer to purchasing and begin to set a budget for your buy. Value and price are two different aspects, yet very easy to confuse. The value of your watch is going to become more and more personal and meaningful to you over time, while the price is nothing more than the amount of money it will cost to purchase.
Spending $10,000 on a watch does not mean that timepiece will have more value to you than one that fits every specification you have in mind, instantly appeals to you, and costs less than $1,000. Choose a watch that possesses the qualities important to you personally and you will be sure to select a timepiece with top value—regardless of the price tag.
Work with a Reputable Dealer
When you've narrowed down the basics it's time to find a reputable dealer. Check customer reviews and ask questions to ensure that your new watch comes with a guarantee. Be sure that any certificates, warranties, or authentication documents your watch should include are provided to you at the close of your purchase.
If you purchase directly from a watch manufacturer, find one that is willing to ensure the protection of your watch from the point of purchase on. This means finding a manufacturer who is willing to replace or exchange your watch if there are any manufacturing defects, if it is damaged in shipping, etc. If you decide to do your shopping online, it's best to find a dealer or manufacturer who also offers the option of exchanging your watch or providing a refund within a certain period of time in the event the watch simply isn't what you were hoping for.
Protect Your Investment
Once you've finally found that perfect luxury timepiece and made your purchase, don't forget to protect your new investment. Depending on the price of your particular watch, you may wish to add it to your current jeweler or homeowner's insurance.
Most luxury watches require minimal maintenance. However, taking proper care of your timepiece is the best way to ensure that it runs beautifully and stays well-maintained for years. At home, consider keeping your watch in a double watch winder whenever it's not on your wrist. Chances are, your collection will eventually grow to include more than one luxury watch.
Most importantly, enjoy the process and choose a watch that you truly love and you'll be sure to enjoy it for many years. After all, regardless of brand or price, the most valuable watch will be the one that is a joy to wear each and every day.