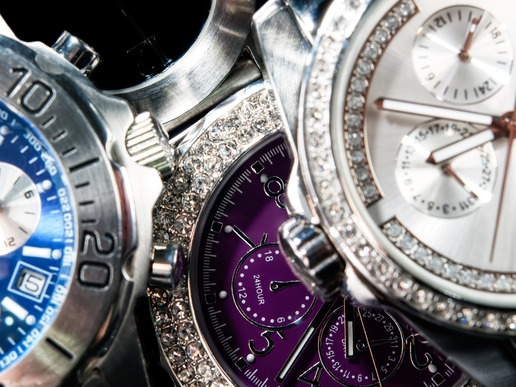 When you first decided you wanted to own a luxury watch, you may not have realized that you truly were embarking on a journey. Now that you have the timepiece of your dreams, your chance has come to get some of the most popular and well-loved accessories on the market. These will help you show off and care for your watch in the ultimate style.
Watch Winders
The more complicated your automatic watch is, the more you need to get a watch winder. If your watch stops, you will need to go through the time-consuming task of resetting your perpetual calendar and your complex movement. Unless, of course, you have a watch winder. Part watch box and part mechanical movement simulator, watch winders can be made from a variety of materials, including fine woods, metal, and leather. Whether you have one automatic watch or six, there is a winder to fit your needs. All are designed to safely and effectively wind all of the major brands of automatic timepieces, and all can be programmed in the frequency and directions of the winding motions they carry out.
Watch Tools
For a little over $100, you can purchase the Wenger Minathor pocket knife with watch tools by Bergeon. This handy gizmo enables you to do virtually every small maintenance task associated with your watch, including switching a metal bracelet for a leather strap, adjusting the final fit of your watch and even examining it in detail under a small loop. Thanks to the Swiss army knife that is also included, you'll always be ready to open a bottle of wine should the need arise.
Watch Bands
If you thought that you were limited to only the watch band that came with your watch, you have a pleasant surprise in store. No matter what brand your fine timepiece may be, there are probably hundreds of styles of straps that will fit it. You can choose stitching colors, sizes, materials and the kind of folding clasp or buckle you want to use. Best of all, personalizing your strap will enable you to get a perfect fit; you can even choose whether you want single or dual holes in your strap.
Watch Books
If you are a timepiece aficionado, you probably want to gain as much information as possible about your hobby. While talking to your jeweler and doing online research are definitely good avenues to pursue, there is nothing like having a physical book packed with information that you can study at your leisure. Watch books can fall into several categories. Particular brands often have written volumes about their history and the full range and pricing of all of their products. In addition to books on brands, you can also find literature that focuses on certain types of watches such as diving or automatic. Finally, you might also enjoy books written by collectors like you. Not only can they be informative as references, but also they can inspire you as a hobbyist.
As you can see, obtaining your fine timepiece is just the beginning. With these beautiful and practical accessories, you can care for your watch while simultaneously letting the collector/hobbyist within you come out to play. Whichever of these accessories you choose, all are guaranteed to furnish you with even more enjoyment and appreciation of your fine timepiece.